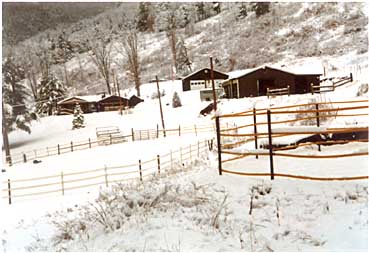 I (Barb) began breeding Rangerbred/Appaloosas back in 1977, one year after acquiring a bay blanketed yearling colt. His name was Welcome Sting and he became the foundation of our breeding program. Sting was shown extensively throughout the area and accumulated many awards; among them were National Champion Halter Stallion, High Point Performance Stallion, Most Versatile Horse and many National Champion class wins at the Colorado Ranger Horse National Show. He also went to the Appaloosa World show in 1981 and placed 4th in a large Costume Class (called Heritage Class today).
As a breeding stallion, Sting sired over 60 foals. Among them were an ApHC National Champion and 10 C.R.H.A. National Grand or Reserve Champions. He also sired quite a few that took 4-H kids to the State Finals. He was noted for putting beautiful heads and necks on all his foals. His disposition was second to none and passed this on to all his foals. Sting died in 1996, but not before leaving his mark on many Rangerbred horses. Sting sired 60 foals registered with the Appaloosa Horse Club as well as a fair number of grade mares.
In 1993, Sting produced a son, Sting's Red Eagle, who proudly takes his sire's place on our farm. Like his sire, Eagle has accumulated his fair share of awards. He has been the Canadian Appaloosa National Reserve Champion 3 yr. Old Halter Stallion, 4 time C.R.H.A. National Halter Champion, 5 time C.R.H.A. National High Point Performance Stallion. Eagle also has Register of Merits in Halter, Hunt Seat Pleasure, Western Pleasure, Driving and Command. He also has a Certificate of Versatility. Eagle is a gentleman in all aspects. He is so kind and patient that we even use him for lessons. He passes on his good looks and temperament to all his foals. Disposition is the most important aspect of our breeding program and with Eagle we are continuing to breed foals with brains, stylish looks, and mostly, exceptional disposition.
In 1987, when we came to Page Run, this little valley was nothing but forest. My husband, Cal, cleared a lot of the ground and we built a small house and barn. Over the years, we have since enlarged the barn to nine stalls, added a second barn with 6 stalls and a small indoor arena, hay storage, outside arena, round pen and lots of pasture. Our horses have lots of room to roam and spend the majority of there time out in pasture. We have found that this makes foals that are sound of mind and body.
We hope you enjoy browsing our web site and if you see anything that catches your eye or just want to chat, feel free to stop by or drop us a note.