Here are some candid pictures of us, our horses, and the other critters that live in our beautiful mountains of north central Pennsylvania!

Barb and Eagle as a 2 yr. old at the Clinton Co. Fairgrounds in the early morning fog.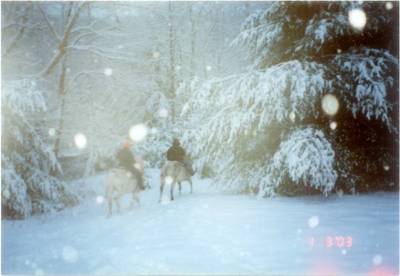 Barb on Eagle and Cindy Kugel riding her mare, Black Tie Affair, 
enjoying a snowy trail ride along Kettle Creek .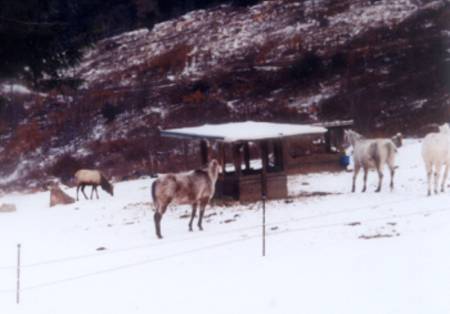 Check the elk on the left side of the photo. A young bull, he came to eat hay with the horses. The horses didn't mind at all.
             
 Cal is riding his favorite horse.Here they are entered in a "Groom's Class"....no particular attire required.
  

Here are some of the deer that hang out here in the winter.  
Nice bucks!  Too bad they were not legal this year.

This is our pet doe and her triplets (her second set). She comes up for extra feed summer
and winter.  She is about 6 yrs. old.

Here are Denise Micheltree and myself riding in the fall of 2004 on the trails around their place.
She is on her gelding, PRR Mity Sky High Ego, and I am on Eagle.  The photo was taken by 
Denise's husband, John Wasserman.
 
These pictures of our broodmares and foals were taken on an early summer morning.
The nights are always cool and we get a lot of fog in the mornings.

This was taken fall of '05.  Cal was leading Eagle out to the pasture on his scooter.
Eagle is quite the gentleman!